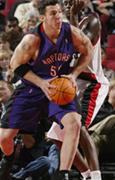 The hiring of Bryan Colangelo by the Raptors is all about change, trying to go in the right direction. Colangelo didn't wait until the end of the NBA season to make a move. They managed to trade big man Rafael Araujo to the Utah Jazz for forward Kris Humphries and center Robert Whaley. The deal also included a cash component sent to the Jazz together with Araujo.
Araujo was drafted by the Raptors in 2004 with the 8th overall pick, a draft position generally considered to be too high for him. The Raptors drafted him out of need to fill the spot in the middle, which was a contraversial move since Andre Iguodala was still available at the time. So far Araujo has yet to prove himself and is generally considered a bust.
This trade isn't very earth shaking at all but it's good to see that Toronto is trying to improve by moving players that can't help the team much. It's not to say that he's useless but just might prove to be more useful elsewhere. Perhaps with a change of environment and especially with a coach like Jerry Sloan, Araujo might just surprise Jazz fans by pulling a "Desagana Diop" type development next season.
Robert Whaley hasn't been used much so it's difficult to tell what he can bring to the table for the Raptors. Hopefully he'll be able to fill the spot in the middle better than Araujo was able to for them. Kris Humphries like Araujo was also considered a bust, showing no improvement from his rookie season.
So basically this trade involves guys who haven't proven themselves in the NBA yet. The good thing about this for the Raptors is that they got two guys for one. I personally wish them all good luck in their new organizations and hope they will show improvements in their development.