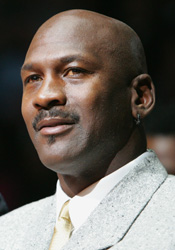 Rumors were floating around the past few years about Michael Jordan having this itch to buy an NBA team. News was he was willing to buy into the Milwaukee Bucks but was unsuccessful. Finally the rumors came true when he agreed to buy into the Charlotte Bobcats, the NBA's newest franchise.
When the Bobcats was still in it's preparation stages, majority owner Robert Johnson offered Jordan a partnership and the opportunity to handle the basketball operations. Jordan turned him down. Now that Jordan is with them, Johnson is excited and overjoyed that he finally got the guy he wanted.
"Ever since I acquired the Bobcats franchise, one of my goals has been to get Michael Jordan to become my partner in operating the team," Johnson said. "I don't think I have to make the case for Michael's basketball expertise, his knowledge or his competitiveness as a player.

"I am very excited to have a native North Carolinian be a part of the Bobcats and excited to have a friend of mine — who I have absolute confidence in — oversee our basketball personnel decision making process." Source
It's nice to see Jordan back in the NBA scene. I just hope he'll handle Bobcats well unlike his stint with the Washington Wizards where he selected Kwame Brown as the 1st overall pick and ended up as a bust. Jordan also humiliated him in public by calling him a flaming [expletive beginning with an F deleted]. That's not the way to treat your players no matter how bad they are. I hope Jordan learned from this and will help get the Bobcats to new heights.