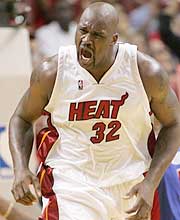 So Father's Day is closely coming up and the only thing I could think of is a feature on the NBA's "Daddy". Yeah, Shaq Daddy! It's a pretty timely post too since Shaq is currently in the NBA Finals and his Miami Heat just won their last 2 games against the Dallas Mavericks to tie the series at 2-2.
Shaquille O'Neal entered the league in 1992 and has since acquired a bunch of nicknames - The Diesel, Big Aristotle, even Shaq a Claus during Christmas time, and the subject of this post, Shaq Daddy. Indeed the name fits and he's a Daddy in s many ways. The most obvious is that he's a daddy to his children. In fact he became a new daddy just recently when his wife gave birth to their 6th child more than a month ago. Amazingly, Shaq's newborn came into this world just six minutes before former teammate Kobe Bryant's 2nd child was born.
You can say Shaq has some sort of "fatherly" role in the Miami Heat especially to Dwayne Wade, who he's helped blossom from a good college player to a highlight making superstar. Dwayne Wade a great player in his rookie season but he only started to really become the star that he is now when Shaq came and I'm sure he had a lot to do with it.
Shaq is also a daddy in the sense that young athletes have been compared to being smaller and less dominant versions of him. It's the Baby Shaq phenomenon! Current Phoenix Suns star Amare Stoudemire lists Shaq as his childhood idol and certainly we can see it. When he was healthy (he's currently nursing an injury) he was a dominant force on both ends of the floor and his speed and quickness, like Shaq, makes it difficult for other big men to catch up with him. I consider Amare the best of the Baby Shaqs so far.
Another one is the Greek Sofoklis Schortsanititis who was drafted by the L.A. Clippers at the 2nd round of the 2003 draft. There's news that the Clips might bring him in next season. He is often called "Baby Shaq" by many probably because of the way he dominates the boards, the way he has a solid inside game with his hook shots and post moves just like Shaq. Considering he's only 6-8 or 6-9, that's amazing. He can be a young Elton Brand.
Another Baby Shaq is LSU's Glen "Big Baby" Davis. Many people say Davis plays very similarly to Schortsanitis and he even looks like and has the charisma of Shaq himself. Amazing. Glen Davis, together with current draft prospect Tyrus Thomas, led LSU to the NCAA Final Four and lost to the UCLA Bruins.
So Shaq is indeed a daddy in many ways. I hope you liked my Father's Day Special and I'd like to extend an advanced Happy Father's Day greeting to all you Dads out there!