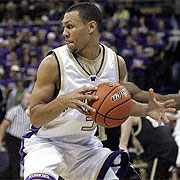 I don't know why but I have this gut feel that Brandon Roy will be next season's Rookie of the Year. It's definitely too early to predict anything since we don't know which team will draft him and personally I haven't seen him play. This isn't really a prediction, but just a sharing of what I feel right now. Of course I'll know better when I get to see him play in the summer league and during the season.
I get this feeling first and foremost because of the lack of a standout first overall pick selection like a Lebron James or Tim Duncan. Everyone in the top 5 in the mock drafts have a legitimate chance to be drafted at the number one spot so it might just be a question of which player fits the team rather than having one better than the other.
Another reason is because a lot of teams seem to like his versatility to play both guard positions and his ability to do pretty much everything well. Plus at 6-5, he's a pretty big guard. The Bulls like him a lot since they'll be able to make a 3 guard rotation of Ben Gordon, Kirk Hinrich and Roy similar to the Isiah, Dumars and Vinnie Johnson rotation of the championship Pistons team of the late 80's. Phil Jackson also seems to like him since he'll fit well in the triangle offense.
If so many teams are giving him special interest he must really be good. I'm thinking if he's not taken at 1 or 2 he'd probably end up being the "Chris Paul" of the draft, who was drafted at the fourth spot and ended up as ROY. It's just me and as I said it's just a feeling so don't quote me on this yet.