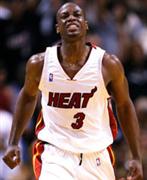 The Miami Heat deserve to be Champions. There I said it. They are now just one win away from taking the title - something a lot of people thought would never happen. They were written off even by myself after they lost the first two games in Dallas. This makes the Heat story even more dramatic and memorable.
Game 5. The score was 101-100 in overtime and Dwayne Wade was the hero once again in this Heat victory. Wade had another amazing production with 43 points and made 2 free throws with 1.9 seconds left in the overtime period to win the game. It was indeed a bad time for Jerry Stackhouse to get suspended because more often than not, when Jerry doesn't score (or doesn't play) the Mavs lose.
The "basketball gods" seem to be with the Miami Heat this whole finals series. In game 3, the Heat got a big lift from Gary Payton whose only 2 points in the broke the tie to win the game. In game 4, the Mavs shot a horrible 31%. This time it was a case of miscommunication between Avery Johnson and Josh Howard. The Mavs had only one timeout left and Johnson wanted to call it after Wade's second attempt, but Josh Howard called it after Wade's first attempt. This mistake caused the Mavs to inbound it from under the Heat basket instead of past the halfcourt line. With only 1.9 seconds left, the Mavs could do nothing from that far away.
Former NBA player Eddie Johnson, in his Hoopshype.com column, said that the Game 5 winner will take the series and win the NBA title. With Miami winning 3 straight games, they have the winning momentum to take the series, especially since they only need one more game. The Mavs face the pressure of losing in the NBA Finals at home. If they want to avoid that humiliation they can't afford to lose one more time or it's over. They came really close to taking game 5 and it need an extra period too. If there's anything that goes towards the Mavs' favor it's that they'll be playing at home and Jerry Stackhouse will be back. I'm not sure how much those two will help now though since the odds and the pressure is against them. I still say that the Mavs have that edge of youth, athleticism and firepower but those things haven't helped them lately. The Heat have more heart and hunger, from what I see, to win that title and that's a more powerful asset to have than anything. I say this as early as now: Gary and Alonzo start fitting those rings!