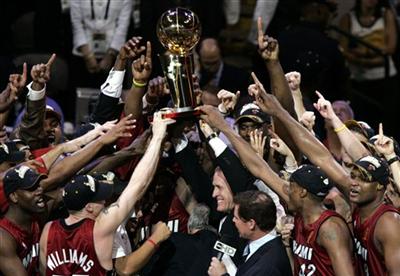 Shaquille O'Neal promised an NBA Title when he arrived in Miami via the trade from the L.A. Lakers. It took him a few years and but he delivered. He delivered with the help of a team effort, a legendary coach and a phenomenal superstar. They won by winning game 6 with a score of 95-92.
The 2006 NBA Finals will always be remembered for many different reasons. The first obvious reason is that it was a matchup between two excellent teams that never reached the Finals in their respective franchise histories. It will be remembered for spectacular performances of Dwayne Wade and Dirk Nowitzki. It will be remembered for Shaq's fourth title, Pat Riley's fifth coaching ring, The first ring and Finals MVP award of Dwayne Wade, and the ring that has eluded Alonzo Mourning and Gary Payton after all these years.
I was cheering for the Dallas Mavericks entering the NBA Finals but had a change of heart when they blew their chance after losing three straight in Miami. On paper the Mavs had the advantage but the Heat had the "heart of the champion" that you should never underestimate (according to long time Rockets coach Rudy Tomjanovich) I'm a fan of both teams so Miami winning is fine by me. If you were to look this whole situation a bit selfishly, you can take this Heat Championship and say that it was their time to win (like Pat Riley said after the game) because I think the Heat won't be able to win next season with all the old and injury prone players they have. The Miami Heat was designed by Riley to win now so they just had to win now or never at all. The Mavericks have a pretty young team with a deep bench and an extremely amazing young coach. They can win next season. (End of selfish rationalization)
My selfish rationalization doesn't discredit Dwayne Wade. He's the man who carried the team to this title just like MJ did in his titles. Even when the Mavericks won the first two games Wade was still the unstoppable force they couldn't find an answer to. His performance in his first ever Finals appearance is just mind boggling and to take the NBA title too, now that's talking future Hall of Fame.
Congratulations Miami Heat! Gary and Alonzo you can both retire in peace.