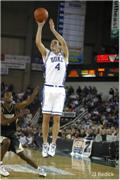 Ouch! The last thing an aspiring rookie needs is an injury. especially one that will keep you out for a long time. Duke shooting star JJ Redick failed a physical and will be out for months because of a back injury that could require a corrective surgery.
The pre-draft camps that are occurring now are very important for a draft prospect. It gives the good players a chance to show that they're worthy of being picked high and it gives other players the chance to show that they're better than first impressions say they are. In short, it's the last chance for the guys to improve their draft stock or sadly decrease it. Since Redick was not be able to show his goods to everyone the NBA teams, especially those who Redick hasn't worked out for yet, will have to make most of their decision based on his college performance. That and his current injury will most probably pose as a risk to the NBA teams looking to draft him. That's definitely something to consider especially if it might lower his stock.
I wish JJ Redick a swift recovery. He's an excellent player and I really would like to see him have a successful rookie season where ever he will play.