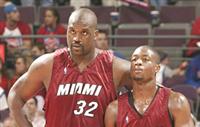 It may be too early to say it but by the looks of it, it might be safe to say the Heat is history. The Mavericks are just too much for them to handle, having more offensive weapons and a deeper bench to cause matchup problems against the Heat.
I said that for the Heat to have a chance to win the Shaq-Wade tandem will have to be productive while the bench will have to step up. Shaq struggled all throughout the game, scoring a postseason career low of 5 points. Obviously Dwayne Wade's 23 points and Antoine Walker's 20 points weren't enough to lit them past the Mavericks. Even worse for the Mavs, Dirk and Josh Howard, who played terribly in game 1, managed to get back into playing shape scoring 26 and 16 points respectively. The Heat lost 99-85, putting the series at 2-0 in the Mav's favor.
Game 3 will be played in Miami so that's something that might fire up the Heat. This is their chance to get a much needed win. Now if they still struggle at home, then Gary Payton and Alonzo Mourning better start saying goodbye to that ring. If they mess up at home, it's over! Nobody has ever come back from a 3-0 deficit and won the series and I don't expect the Heat to do it. Based on that, the Heat must win game 3 or it's bye bye.