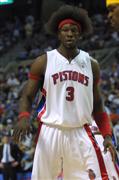 One thing I get pissed about is when NBA teams make a major overhaul in the offseason even if the team clearly had some success. That's why when the rumors about the Pistons putting coach Flip Saunders in the hot seat or when the rumors about Ben Wallace on the trading block came out just because they failed to make the NBA Finals, I felt uneasy inside.
Well, team president Joe Dumars put a stop to all that saying that only minor adjustments will be done.
"You don't do what we did this year, get where we got this year and say we're not good enough, we have to change our team completely," said Dumars, whose team was eliminated in six games by the Miami Heat in the Eastern Conference finals. "But do you add something to it? Absolutely." Source
It's unfair to label the Pistons' failure to reach the finals as the type of failure where you need to go back to the drawing board and redesign the whole thing. (That's the type of predicament the Knicks are in). The Pistons had a very successful season so you don't go making changes until you realize you've taken the away the pieces responisble for your past successes.
Ben Wallace. The issue is that he's getting slower and he's an offensive liability. This is why giving him the maximum contract might not be worth it. But remember he's a 4 time defensive player of the year and he's the center piece of this Pistons defense. He's the reason the Pistons made it to the playoffs even before Rasheed joined up. I don't think it's fair to even bring up this discussion. He's getting slower can you find anyone else in the league that plays his brand of defense, someone whose team is willing to let go? I thought so. As for the offensive liability part, we all knew that from the start. If the Pistons can negotiate for Ben to play under a more affordable contract then it's good. But you see, other teams are more than willing to "overpay" Ben. I hear the Chicago Bulls are. If he's good enough for a max contract with other teams, the Pistons should be willing to keep him.
The Pistons were almost unstoppable in the regular season with the same squad that played in the Playoffs. It's not much of a roster problem then, it's mental! So Dumars is one the right track - no major overhauls!