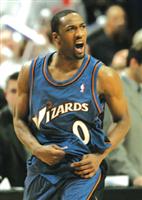 Gilbert Arenas was cut from the Team USA roster in the move to bring the roster down from 15 to 12. I thought this was done because he got injured and had he not been he would have been an obvious addition to the roster. Now it seems like that wasn't the case. It seems that he would have been cut anyway, injured or not.
"The disappointing part was talking to Colangelo and he said, 'I heard you want to go home,' " Arenas said. "I told him that I was hurt but I didn't know how serious it was and that I didn't want to hold up a spot for somebody else. He told me, 'I've been talking to the coaches and you're on the bubble anyway, so you can go if you want.' I was like, all right." Source
Watching team USA play, I think Gilbert Arenas would have been an excellent selection in place of Joe Johnson or Antawn Jamison since both have pretty much struggled make the significant impact they were selected for. For example, Johnson was selected for his excellent outside shooting but there were games when he'd be absolutely cold from beyond the arc.
To make Arenas feel better I guess it's good to point out that if Paul Pierce and Kobe Bryant were not injured, Team USA would definitely have no room for Arenas. With a national team full of superstars, Arenas shouldn't feel too bad. What's important is that he was there ready and willing to play for his country when they needed him.