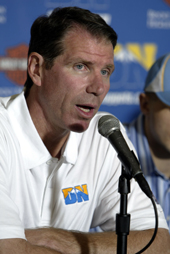 I was a bit sad for Kiki Vandeweghe when the Denver Nuggets quite recently decided to let him go as their general manager. During his term, the Nuggets rose from one of the worst teams to making the playoffs. Vandeweghe was let go after a disappointing playoff performance and problems with player morale.
Apparently David Stern thinks highly of him since he's willing to take him if ever he has no luck getting a job with another team.
So much so the NBA wants to utilize Vandeweghe next season if he doesn't land with another team. Vandeweghe left the Nuggets after five seasons when his contract wasn't renewed.

"He's out there looking for an opportunity with a team, but if something doesn't come up, there are lot of opportunities for him on NBA TV," said Adam Silver, who takes over as NBA deputy commissioner July 1. "Either in the studio or possibly doing color or writing a blog for NBA.com. We're discussing a lot of different things." Source
I guess Kiki Vandeweghe should feel more at ease now that he has a great job waiting for him in case no other comes up. This shows you the NBA cares for its people! Good luck with the job hunting, Kiki!