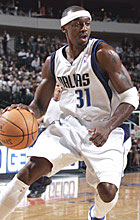 If you round up the usual suspects, you'd think that Miami won game 1 of the NBA Finals. Dwayne Wade had his 28 points while Shaq, Antoine Walker, and Jason Williams scored in double digits. Dirk Nowitzki only scored 16 points and Josh Howard scored only 10 points. The Mavericks were 24-0 before the Finals when Howard would score 20 or more. Based on these statistics, the Mavericks lost the game. Poor Mavericks.. there goes my prediction. *whisper from anonymous person* What's that? They won?!
They did win with a 90-80 game! Jason Terry was the hero for the Mavericks, scoring 32 points to make up for the poor performance of Howard and Nowitzki. He was 13-18 from the field and made four 3-pointers. This goes to show the depth of the firepower the Mavericks have. With Dirk and Josh performing badly they still had another offensive threat to rely on in Terry.
"I just wanted to come out and be aggressive," Terry said. "There was no point where I ever looked up at the scoreboard. I'm just continuing to take shots."

"We saw the real Jason Terry and we need this Jason Terry," Mavericks coach Avery Johnson said. "This Jason Terry makes us a pretty special basketball team." Source
Another thing killed the Heat in this game - Free throw shooting. The Mavs were 20-26 (76.8%) from the charity stripe while the Heat were terrible with a 7-19 (36.8%) performance at the stripe. Shaq was the main culprit, who made only 1 out of 9 freethrows.
The outcome of game 1 is bad news for Miami. It's a bad thing when the Mavs win even when Dirk and Howard did badly. It might be plain murder when they do well.