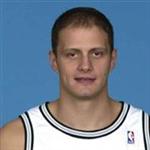 Bryan Colangelo makes another move just to show that he's serious about improving his Toronto Raptors. They traded veteran forward Eric Williams, young forward Matt Bonner and a 2009 second round pick to the San Antonio Spurs for center Rasho Nesterovic and some cash considerations.
The Raptors seriously needed a legitimate center to fill in that gaping hole in the middle. In his rookie season, star power forward Chris Bosh played center due the lack of any better option. This led to the decision to draft Rafael Araujo at such a high position in 2004 just to turn into a bust. He was recently traded to the Utah Jazz. Now the Raptors have a legitimate center in Nesterovic who can score, rebound and block shots fairly well. When David Robinson retired after winning his 2nd title in 2003, Nesterovic came in as a free agent acquisition from the T'Wolves and did a pretty decent job filling in for the Admiral. He's no Admiral of course but he did an acceptable job.
With the arrival of Nesterovic, does this mean a confirmation that the Raptors will indeed trade down in the draft to get point guard Marcus Williams? Maybe, unless they use the first pick to draft another wing player like Adam Morrison, which I don't think they should do with so many wing players already.
The Spurs get a pretty good player in Matt Bonner who can create some matchup problems since he's 6-10 and can bury the outside shot. He gives Spurs some versatility since he can play both forward spots. The Spurs get a veteran forward in Eric Williams who adds more depth to roster at the forward spot and a good defensive presence. While talent-wise this trade is a nice exchange for Nesterovic, the acquisition of Eric Williams is a bit "iffy" for what's good for the team. The Spurs already have a lot of veterans in Robert Horry, Michael Finley, Nick Van Exel (but he's retiring right?) and Tim Duncan, Bruce Bowen, and Brent Barry aren't getting any younger. It's time to get some young blood! Also with Rasho out and Nazr Mohammed testing free agency, that leaves Tim Duncan and Argentinean Fabricio Oberto left to play center. Maybe it's time to call in draft picks Luis Scola of Argentina and Robertas Javtovas of Lithuania. And I wonder if that Ian Mahinmi guy is ready to play?
Related Links:
Raptors Website News About Trade