LeBron and Cleveland going down hill fast
NBA Obsessed takes you into the hit and run game of NBA Basketball.
And LeBron shall lead them…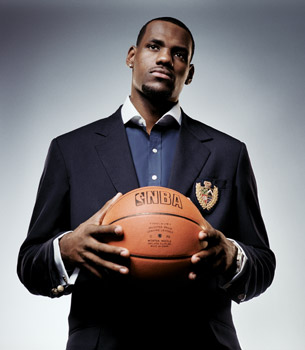 Winning.
Every team that experiences winning can tell you how great it feels. After a while a team that wins begins to think of themselves as winners.
That is where the trouble begins. Teams forget all the hard work, the lucky breaks, the momentum, the close calls that went their way. They seem to claim a divine right that makes them better.
Cleveland started to really play as a team when they faced the Detroit Pistons in the playoffs last year.
Detroit, on the other hand, was a tired and uninspired team. To be sure, they took the Cav's lightly.
LeBron and teammates made them pay for that attitude and knocked them out of the playoffs.
Cleveland forgot that they were still learning, still getting better, still needed more help. The summer came and the front office made no moves.
Now Cleveland must relearn to be winners. It is a process and with LeBron, they can do it. Right now, though, Cleveland is struggling.
The Cleveland Cavaliers are a team in disarray.

A 105-96 loss to the Golden State Warriors on Sunday night was their 10th in 13 games, and was met with a chorus of boos from fans of the defending Eastern Conference champions.

The latest loss, in which the Cavaliers never led and trailed by 28 points in the third quarter, was so bad LeBron James left the arena without talking to reporters. source
NBA Basketball Fan Question Is Cleveland out of the playoff picture all ready?
Visit my companion blog on the NFL at Squibkick.com
As always, any NBA Basketball related comments are welcome.
More blogs about basketball.


Tags: cavaliers, cleveland, Detroit Pistons, golden-state, james, lebron, warriors, winning
Related Stories
POSTED IN: Cleveland Cavaliers, Golden State Warriors, LeBron James, NBA Playoffs