Kevin Garnett for Who?
NBA Obsessed takes you into the hit and run game of NBA Basketball.
Kevin asks: Al Who?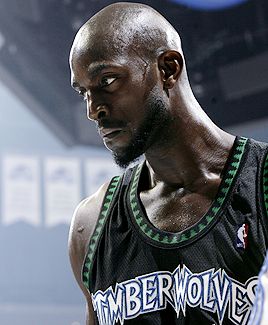 A friend of mine asked me the other day what the Celtics gave up for Kevin Garnett? Yes, your intrepid author has friends.
Before my friend could hear my answer, he exclaimed that Boston got Garnett for nothing. They just gave up a bunch of junk.
He asked me again, so who did Boston give up?
My reply was Al Jefferson.
Who?
Al Jefferson, he is a young player and is going to be a great player in this league for years. Believe me, Boston did not want to give him up.
The original trade reads like this:
The Boston Celtics announced today that they have acquired 10-time All-Star and 2004 MVP Kevin Garnett from the Minnesota Timberwolves in exchange for Ryan Gomes, Gerald Green, Al Jefferson, Theo Ratliff, Sebastian Telfair, a 2009 first round draft pick (top three protected) and a return of Minnesota's conditional first round draft pick previously obtained in the Ricky Davis-Wally Szczerbiak trade. Minnesota also receives cash considerations in the deal. source
Who?
The conversation kind of ended right there, but now Al Jefferson has a chance to get voted on to the All Star team and deserves it.
Al Jefferson, Minnesota
Averages: 20.3 PPG, 12.3 RPG, 1.5 APG; Total PRA: 34.1
Breakdown: Replacing Kevin Garnett is no easy task, but Big Al is working hard in Minnesota. Taking advantage of a post-centric offense, Jefferson's averaging more than 20 points per game for the first time in his career, and rebounding at a rate that proves he's hungry like a (Timber)wolf. source
Only one problem for Al Jefferson. He has to beat out Tim Duncan, Carmelo Anthony, Carlos Boozer, and Dirk Nowitzki.
There is no Who with any of those guys.
NBA Basketball Fan Question Will you be casting a sympathy vote for Al Jefferson?
As always, any NBA Basketball related comments are welcome.
More blogs about basketball.


Related Stories
POSTED IN: Al Jefferson, Boston Celtics, Denver Nuggets, Kevin Garnett, Minnesota Timberwolves, NBA Basketball