Celtics - Kevin Garnett can't stomach losing
Is age catching up to Kevin Garnett?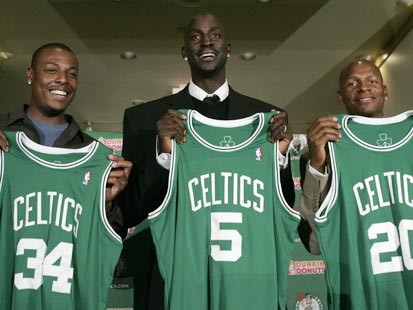 Kevin Garnett is injured.
Kevin Garnett is old in basketball years. 32 in May. 13 seasons.
The man is also the Big One of the Big Three.
Boston needs an healthy Garnett.
Both of these items could spell problems for the Celtics.
Forward Kevin Garnett tried to convince coach Doc Rivers on the bus ride from the team hotel that he might be healthy enough to play against Orlando yesterday. Rivers, however, wouldn't budge.

Garnett missed his first game of the season with an abdominal strain. Garnett missed part of the fourth quarter of the Celtics' win over the Timberwolves Friday night with the injury, which he said has been bothering him recently.

"That muscle in the stomach is not anything you play with," Rivers said. "From the history of other players that have had it, he can actually be injured and be out for a while. We're lucky that he caught it early enough.

"He may play Tuesday [at Miami], may. But I doubt that. I just think we go day to day with it. It's just not worth taking a chance."  source
Injuries to Shaq and Wade derailed the Heat the last few years.
With the age of the Big Three, could this be an issue for the Celtics?
Keep in mind, just like Larry Bird was to the original Big Three, Kevin Garnett is the one player the Celtics can not afford to lose.
Paul Pierce and Ray Allen would not be able to carry the Celtics for any long period of time and definitely not in the playoffs.
NBA Basketball Fan Question  Will age creep up on Kevin Garnett and the Celtics?
Tags: basketball, boston, celtics, injury, Kevin Garnett, nba, Paul Pierce, playoffs, Ray Allen
Related Stories
POSTED IN: Boston Celtics, Kevin Garnett, NBA Basketball, NBA Playoffs, Paul Pierce, Ray Allen