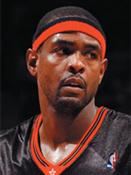 Chris Webber was one of the best power forwards of his time. Webber spent the best years of his career as a a member of the Sacramento Kings where he was a huge part of the roster that almost made it to the NBA Finals in the 2001-2002 season, losing to the LA Lakers. After that injury that led Webber to have microfracture surgery in 2003, Webber never was the same kind of player he was before, yet still a pretty good player.
Now with the Philadelphia 76ers, Webber was able to form a bond with Allen Iverson on and off the court - a tandem that has been having its ups and downs. Just recently, Webber has expressed his disappointment with his reduced role with the team, leaving him to be merely a role player with a fat contract.
"I'm not going to keep playing like this," Webber told the Sacramento Bee after scoring six points Wednesday night in Seattle. "I don't like this role."
Webber might not like it but I can see where Coach Maurice Cheeks is going with this. He's not the same player he was before and his efficiency and production is dropping fast.
Webber is averaging 10.3 points on 37 percent shooting in 30.6 minutes, well off his 14-year career averages of 21.5 points on 48 percent shooting in 37.9 minutes.
On the other hand, if you look at the team roster Webber is still the best power forward on the team, which is a bit telling of how that team is built. Remember that when he was acquired from the kings, the Sixers had to give up Kenny Thomas, Brian Skinner and Corliss Williamson - all power forwards. Looking back, what seemed like a nice catch for the Sixers now looks pretty bad. Now they're a bit thin in the depth charts at the 4 spot and they're stuck with a guy with a big contract. I know that coach Cheeks is trying to keep their best 4 guy healthy to last the entire season by resting him but letting him sit out the fourth quarter is ridiculous. the team needs to make do with hat they have and Webber is the best 4 they've got. If they're not using him properly, they're just wasting the money they're paying him and they never should have acquired him is the first place. It would have been better to still have Kenny Thomas et al if that's the case.
Poll: Please vote at the poll in the sidebar about whether the team should trade Webber. Thank you