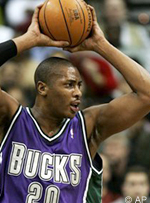 I consider Milwaukee Bucks GM Larry Harris someone who, like Danny Ainge of the Celtics, doesn't seem to know what he's doing at times and has strokes of genius at other times. I can't really say he's incompetent but he's not consistent. Danny Ainge has had praise for the drafting of Delonte West, Tony Allen and Al Jefferson back in 2004 and drafting Gerald Green and Ryan Gomes in 2005. All guys are pretty good young players. But then he messed up by trading away Antoine Walker and Ricky Davis while also acquiring the bust center Michael Olowokandi.
Larry Harris got lucky by drafting Andrew Bogut and also acquiring Jamaal Magloire from the Hornets. He was able to get guys like Mo Williams and Charlie Bell who turned out to be good guards. The TJ Ford for Charlie Villanueva trade really benefits the Raptors more but I guess you can't go wrong with CV so this trade is decent.
I understand that Jamaal Magloire was set to be traded so that Bogut can play his natural center position. But if you're going to trade Magloire, a one time All Star center, I was hoping the Bucks would get more than what's reported they're getting. Word is, the Bucks and the Blazers have verbally agreed to trade Magloire for Steve Blake, Brian Skinner and Korean big man Ha Seung-Jin who hasn't done much in the NBA so far. All three are role players at best.
So once again I have to say to Larry Harris: What the hell?!!