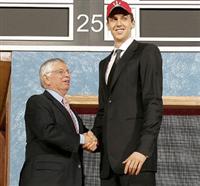 Since I'm from the Philippines, I had to wake up before 7:00 am just to be ready to watch the 2006 NBA Draft live. I just have to say that it was well worth the trouble of waking up much much earlier than I normally do. It's great to see so many teams making anywhere from good to great selections and then some well… some teams make mistakes. There were so many trades that I had a hard time processing which prospect went where. Good thing they repeatedly showed the trades that transpired. Overall the draft looked like a success so I would just like to give my comments on those selections that I feel need special attention. Note that I'm only commenting about 1st round selections since I''m not very familiar at all with the players that were picked in the second round. My comments are based on what I''ve read in the past and the insights about the players made by the experts that were there as the draft was going on.
Toronto: Andrea Bargnani is a great selection at no. 1 considering he's one of the players projected to go first. The Raptors couldn't really lose whether they selected him or Aldridge or whoever. He's a great player because of his size and his offensive talent and I hope he develops into someone more like Dirk rather than someone like Tskitishvili. I'm just not sure how the team rotation will be like with Bosh and Villanueva already there.
Chicago: I sort of expected LaMarcus Aldridge to be a keeper here but then they traded him to Portland for the rights to Tyrus Thomas. Thomas is an athletic freak and he can block shots and rebound like anything. He has a great potential to be a great player in this league. I'm just not sure again how he'll fit since he's a natural small forward. While he can possibly play some at the 4 spot at 6′9, he's a natural 3. Of course they can go the way of Phoenix and play small ball. The selection of Thabo Sefolosha gives them nice depth and versatility at in the backcourt and a good perimeter defender. Nice picks here Bulls!
Charlotte: Adam Morrison not only gives them the scoring threat they seriously need but he also gives the Bobcats that fan drawing power that will help them sell tickets and have great PR.
Atlanta Hawks: Their GM said it all. They don't have a problem scoring, they have a problem giving up shots on the defensive end. Workhorse Shelden Williams was what they needed more than anything. They needed to reinforce their frontcourt and that's what they did with this pick. Good job here!
Portland: Selecting LaMarcus Aldridge and Brandon Roy was a great job. I'm not really sure what to make of the trade they made with the Celtics but without that they wouldn't have been able to get Roy so I guess it's ok. I just think the Blazers should have just stopped there. The trades that led to the selections of Sergio Rodriguez and project center Joel Freeland just didn't really make sense. I think the Blazers wanted so much to undo the mess they got themselves into that they panicked into getting more than they really needed. I think those 2 later first round picks are going to hurt them more than help them in the future.
Minnesota: Randy Foye is a combo guard a la Chauncey Billups who can fill in that point guard spot or play the 2 spot whenever needed and be explosive offensively. This is bad news for Marko Jaric. Nice job here except maybe Brandon Roy would have been better since he's a more complete guard. Why'd they trade him away when they already got him? Still, this is nice.
Houston: If Rudy Gay stays in Houston, he will be solid as a third scoring option for the team behind T-Mac and Yao Ming. Him dropping this far down just shows you that the top players in the draft could really be selected anywhere and that so many had pretty much equal chances in going 1st. But there is a potential trade that could send him to Memphis for Shane Battier. If this trade happens, Battier could be a good addition to the Rockets but might kick themselves in the shin if Rudy Gay turns out to be the great player his potntial dictates. In that case, shrewd move Jerry West!
Seattle: 3 project centers in a row. Why? (Robert Swift in 2004, Johan Petro in 2005, now Saer Sene)
Orlando: JJ Redick was the guy I had for the Magic long ago and they got him. Nice offense and perimeter threat here!
New York: The Knicks fans are angry and want Isiah's ass fired! I would too if I were a Knicks fan since he drafted a 2nd round talent at no. 20 and by the time they got to pick at 29, no one really much was left so they picked decent player in Mardy Collins. They had the opportunity to draft guys like Marcus Williams, Josh Boone, Jordan Farmar and others but Isiah blew this draft. He has one year to turn the Knicks around. I don't expect him to be back this time next year judging form this.
New Jersey: A great backup point guard (Marcus Williams) to Jason Kidd and some depth at front (Josh Boone) to help Nenad Krstic have arrived in Jersey. They're college teammates too! Amazing!
L.A. Lakers: The Lakers needed a true point guard and after Marcus Williams was taken Jordan Farmar was the next best thing. Coming from UCLA he's local talent too. I don't favor the Lakers because I personally hate Kobe but I can't deny this draft selection was great!
I end my analysis here. Any team I didn't mention means I basically think it was a decent selection and I'd rather not comment or this post will just be longer than it already is.