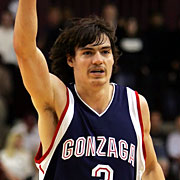 He's one of the the incoming rookies expected to be drafted as one of the first, if not first overall. He led the NCAA Division I in scoring before leaving Gonzaga to declare for the draft. The draft is just hours away and Adam and his fellow prospects are unsure as to where they will end up. But at least Adam is sure of one thing. Even before he starts his professional career as an NBA player, he already has a source of income because Adam signed a deal with Adidas.
He now joins the likes of Kevin Garnett, Tim Duncan, Tracy Mcgrady, Chauncey Billups, Gilbert Arenas and even younger players like Dwight Howard, Sebastian Telfair, and Raymond Felton as part of the Adidas team of many young and old players. Visit the Adidas website to see NBA players who sponsor Adidas.
We've all seen the Impossible Is Nothing slogan of ads by T-Mac, TD, and KG and in a way Adam Morrison fits that. It's a great story for Adam to have achieved so much in his amateur playing days despite his diabetic condition. While he insists that it's no big deal, it's still is some sort of setback because he has to take better care of his health more than the average player and rely on insulin shots before every game. Impossible is Nothing indeed!
Good luck to you Adam!