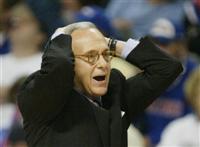 It's official! The Knicks fire Larry Brown after leading them to their most disappointing season ever with a record of 23-59. It's disappointing because the Knicks roster is full of big names such as Steve Francis, Stephon Marbury, Quentin Richardson, Jalen Rose, Eddy Curry and others yet they manage to tie the franchise's losing record. Team president and general manager Isiah Thomas will be replacing Brown as coach.
Brown's firing is a step in the right direction but that doesn't mean the situation is going to get a lot better for the Knicks. No matter what you say, it's a fact that the Knicks roster is inherently flawed and needs a major makeover. That's going to be hard because of the many unfavorable contracts. Isiah said it himself when Brown approached him with a list of players he wanted out and Isiah just told him it's going to be difficult to move all the players.
I'm also a bit uneasy with Isiah taking three positions in the Knicks organization. He's going to need a lot of help because he can't be all three and expect to do well in all three. Eventually he's going to have to let go of something, most possibly the coaching job. Even Bernie Bickstaff, coach and general manager of the Charlotte Bobcats, wanted to get rid of his coaching job to focus more on his executive role back then. I'm not sure if he's still pursuing this but at least now he has help with MJ now manning all basketball operations decisions.
I hope the Knicks show a lot of improvement this coming season, but honestly I think it's going to take them several years to get out of this mess and become a consistent winning team again just like the days of Patrick Ewing. First they need to manage all those bad contracts…