Sacramento Bees Cheerleaders in trouble
NBA Obsessed takes you into the hit and run game of NBA Basketball.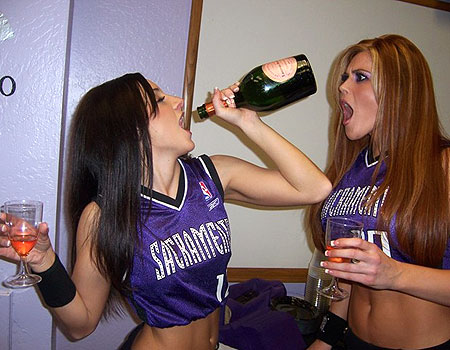 Pictures taken between 2005 and 2007 are circulating around the internet and could cost the Sacramento Bees their jobs. Since this is a family blog, the above photo is not the one that has them in hot water.
In one photo, four women are seen bending over – their backsides showing and leaving little to the imagination. Another shows two women posing suggestively as if about to kiss. At the least, the incident poses the question: What were they thinking? source
The pictures were spread out over the internet in a 14 picture set by withleather.com
The images, which have been posted on the sports blog WithLeather.com under a blog entry titled "Sacramento Kings Dancers Are Awesome," show the girls drinking and posing in various states of undress. source
NBA Basketball Fan Question Does this take your mind off the Kidd trade? As always, any NBA Basketball related comments are welcome. More blogs about basketball.

Related Stories
POSTED IN: Cheerleaders, Fun Stuff