Pau Gasol ready for Lakers championship run
NBA Obsessed takes you into the hit and run game of NBA Basketball.
Pau Gasol brings scoring to the Lakers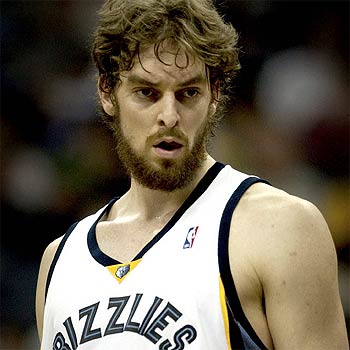 The Lakers essentially traded less than nothing to the Lakers for Pau Gasol.
In an unbelievable pickup the Lakers are right back in the hunt for the NBA Championship.
Wait a minute, is Pau that good?
No, but that is the beauty of it all, Pau Gasol does not have to be that good.
Right now he is a fill in for Andrew Bynum. When Bynum gets back you have a Pau Gasol that can put up points in the triangle offense, get some rebounds, give the Lakers more length, and present a mismatch on the floor at all times.
Have you ever seen this guy play?
He has a funky release on his jump shot, but it consistently goes in. Pau can knock down mid-range after mid-range jump shot with that funky release.
Other GM's in the league are shaking their heads.
Around the league, the reaction of executives and coaches was unanimous: What a nightmare for us. When reached with the news, one Western Conference executive said simply, "Are you kidding? (Expletive) me." source
They just realized that you will not get Kobe in a trade from the Lakers, he is going nowhere now and that the Lakers are for real. Suddenly Lamar Odom is a distant fourth option on this team.
Kobe celebrated by putting up 47 points on the Raptors.
David Stern
Think of the wild thoughts going through the Commissioner's head right now. He has the golden memories of all those Boston LA series with Larry Bird of the Big Three vs. Magic Johnson and Kareem Jabbar.
Now, Stern is thinking Kevin Garnett of the Big Three (Ray Allen, Paul Pierce) vs. Kobe Bryant and Andrew Bynum.
Stern is smart enough to see he role the Pau plays in this and also to see the immense marketing dollars.
Funny how a single trade of a guy that no one was talking about can change things so quickly.
As for Memphis? They are just unloading salary and cleaning house. They are pathetic and know it. Time to start over.
NBA Basketball Fan Question Has Mitch Kupchak delivered?
As always, any NBA Basketball related comments are welcome.
More blogs about basketball.


Tags: andrew-bynum, basketball, boston, bryant, celtics, grizzlies, Kevin Garnett, kobe, lakers, Larry Bird, los-angeles, magic-johnson, memphis, nba, NBA Championship, pau-gasol, Paul Pierce, playoffs, Ray Allen
Related Stories
POSTED IN: Kobe Bryant, Larry Bird, Legends, Los Angeles Lakers, Memphis Grizzlies, NBA Championship, NBA Trades, Player Movement