Pistons make it 8 by resting
 NBA Obsessed takes you into the hit and run game of NBA Basketball.  
Chauncey is averaging 2 and 1/2 less minutes per game this year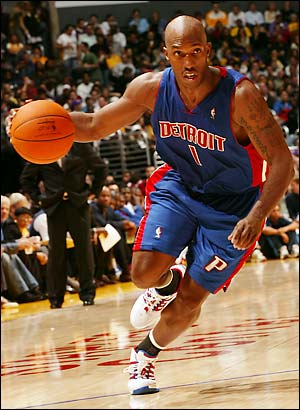 The roll continues for the Pistons and they are doing it by taking advantage of one of their team strengths, depth.
That's right, depth. The Pistons are playing a lot of players and it is paying off with early dividends.
Last year the Pistons looked tired physically and weary mentally in losing to the Cav's and LeBron in the Eastern Conference Finals. In an effort to prevent that from happening again, the Pistons are playing a lot of young players and will continue to play a lot of players, period.
Unlike recent years, this season the Pistons don't have any players ranked in the top 50 in minutes. With their solid bench contributions and string of winning games long before the late moments of the fourth quarter, Pistons coach Flip Saunders has been able to cut his starters minutes back to the low 30s — just as Dumars hoped would happen this season. source
The latest result was for victory number 8 in a row. It happened to be a back to back with the Indiana Pacers.
Chauncey Billups had 17 points, reserve Jason Maxiell scored 12 and Rasheed Wallace finished with 10 points and 10 rebounds to help Detroit (23-7) complete the home-and-home sweep over the Pacers.

"It's not that odd to play a team back-to-back, you get that every once in a while in this league," Wallace said. "You still have to go out there and hoop." source
Even with all the young guys playing the Pistons struggled a little bit with the back to back.
Mike Dunleavy's 3-pointer cut the deficit to 96-92, but the Pacers couldn't get any closer.

"They made a few more plays down the stretch, but we had our opportunities," said Granger, who finished with 15 points. "We put ourselves in position to win the game, which is what you always want to do."

Billups wasn't surprised by his team's ability to hang on at the end.

"We got everything we wanted in terms of plays down the stretch," he said. "We came together when it really counted."
There are still a lot of games to play before the playoffs, so you will have to watch and see if this strategy continues to help the Pistons, but right now they are a rested and confident team.
Eastern Conference Finals here they come.
NBA Basketball Fan Question Can the Pistons merge in the youngsters for the playoffs?
As always, any NBA Basketball related comments are welcome.
More blogs about basketball.


Related Stories
POSTED IN: Chauncey Billups, Detroit Pistons, Indiana Pacers, Rasheed Wallace, Rip Hamilton