Celtics suffer home loss to Bobcats Richardson
NBA Obsessed takes you into the hit and run game of NBA Basketball.
J-Rich sets one down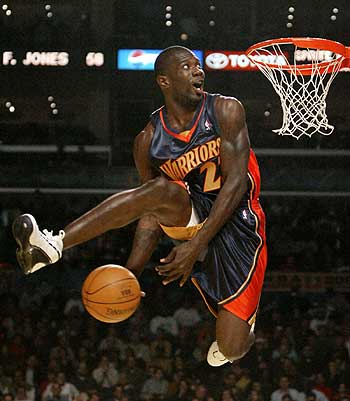 The nearly invincible Boston Celtics lost at home to the Charlotte Bobcats by the score of 95 - 83.
Jason Richardson dominated this game with 34 points and 9 rebounds. Gerald Wallace chipped in with 15 points and 10 rebounds.
…the Charlotte Bobcats stunned the Boston Celtics 95-83 for just their fourth loss of the season on Wednesday night.

The loss snapped a nine-game winning streak for Boston (29-4) and spoiled its bid for the fastest start in team history to 30 wins. The 1959-60 Celtics started 30-4 before going on to win the NBA title.

The Bobcats, who entered with an Eastern Conference-worst 1-11 road mark, also got 16 points and eight assists from Raymond Felton. source
Richardson is an incredible athlete and has had the misfortune to play on bad teams.
When J-Rich played at Michigan State University, he was a slam dunking machine with a not so good outside shot.
NBA Basketball Jason Richardson factoid - Richardson won the NBA Slam Dunk Contests in 2002 and 2003, joining Michael Jordan as the only players to have won in consecutive years. source
But Richardson's game was raw and he worked on it constantly. Eventually he developed an outside game to rival his inside game. Now he is known for his 3 pointers.
Boston Celtics
Before you go crazy and attach all kinds of meaning to this game, maybe we ought to take a bigger look at things.
Kevin Garnett led Boston with 24 points and eight rebounds. Paul Pierce scored 13 points on just 4-for-14 shooting.

The Celtics' only other loss at home came when Detroit's Chauncey Billups hit two free throws with 0.1 seconds left in an 87-85 win on Dec. 19. Boston is 16-2 at the TD Banknorth Garden. source
A couple of key notes to take. Kevin Garnett was his usual MVP self and Paul Pierce had a bad night. It happens.
But the bigger issue may be the Celtics coming off of a huge victory over the Detroit Pistons on the Pistons home court. The letdown from that victory to playing the Bobcats took a lot of steam out of the Celtics.
Still, a victory over the Celtics is rare and the Bobcats earned it!
NBA Basketball Fan Question What if Jason Richardson played on a great team?
As always, any NBA Basketball related comments are welcome.
More blogs about basketball.


Tags: Boston Celtics, Charlotte Bobcats, Chauncey Billups, Detroit Pistons, gerald-wallace, j-rich, jason-richardson, jrich, Kevin Garnett, michigan-state-university, msu, Paul Pierce
Related Stories
POSTED IN: Boston Celtics, Charlotte Bobcats, Chauncey Billups, Detroit Pistons, Kevin Garnett, Paul Pierce