Amare Stoudemire - Phoenix beat Kidd and the tired Suns
NBA Obsessed takes you into the hit and run game of NBA Basketball.
Amare Stoudemire, "We won and now you want me to grow 2 inches?"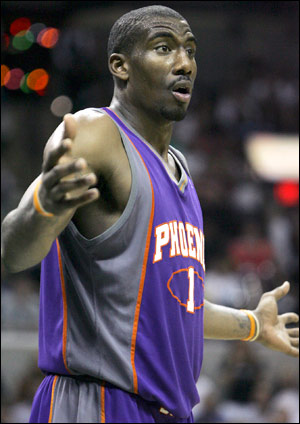 You're tired, you're on the road and it is the second game of a back to back.
As luck would have it you have to play the Phoenix Suns.
Ouch!
The Suns are a team of boundless energy and while you, well, you are just plain tired.
The Phoenix Suns defeated the New Jersey Nets 116 to 92.
This was not just an ordinary game either. Jason Kidd was in town and in case you did not know, Jason used to toss the ball around for the Suns eons ago.
At the time, Kidd kept taking Phoenix to the playoffs, but not winning, plus there were a few altercations outside of basketball, so they traded him to the New Jersey Nets for Stephon Marbury. Yes, at one time, teams actually wanted Stephon Marbury.
Now the Phoenix Suns seem to still own Jason Kidd.
Amare Stoudemire had 28 points and the Suns made it 14 in a row at home over New Jersey by handing the Nets their fifth straight loss, 116-92. source
It was a strange night in Phoenix as football interested the crowd more than basketball.
But even as the Suns beat the Nets for a 14th consecutive season in Phoenix, the 116-92 victory cruise Sunday night could not even draw the night's biggest cheer. That came in the uproar of free T-shirts being delivered to the crowd as half of the fans seem to be watching the New York Giants miss their first try at a game-winning field goal in the NFC Championship. source
Phoenix is now 15 - 2 against the East and seemingly in cruise control with the best record in the West.
Phoenix plays a style that is hard for teams to play against that do not see it all the time.
Still it always makes me wonder how they can win it all without a big man. Amare is a forward playing center and just how well does that play when he runs up against a Duncan, Yao, Wallace, or Garnett?
NBA Basketball Fan Question What has happened to the NBA Center?
As always, any NBA Basketball related comments are welcome.
More blogs about basketball.


Tags: amare-stoudemare, basketball, center, east, Jason Kidd, Kevin Garnett, nba, New Jersey Nets, Phoenix Suns, Rasheed Wallace, Steve Nash, Tim Duncan, west, Yao Ming
Related Stories
POSTED IN: Amare Stoudemire, Jason Kidd, Kevin Garnett, New Jersey Nets, Phoenix Suns, Rasheed Wallace, Steve Nash, Tim Duncan, Yao Ming