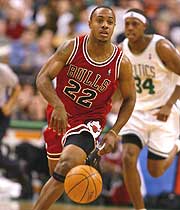 We all know how tragic it was for former Duke star and Chicago Bull Jay Williams to suddenly get into a motorcycle accident right after his rookie season. We might never know how the Bulls would have performed if it never happened but at least we might get a clue soon.
After rehabbing his injury for all these years, Jay Williams says he's ready to play again. He looked very good in his rookie season, who was picked by the Bulls with the number 2 overall pick in the 2002 draft just after Yao Ming. If he plays even anywhere close to the level he played in his rookie season, he'd be a valuable asset to any team, especially a team that's looking for a good explosive point guard. The Toronto Raptors need one, especially if Mike James leaves, and Williams is interested.
"The thing I like about Toronto is the winning atmosphere," said Williams. "Guys want to win, guys want to be great players, and you can't say that about every franchise. They're definitely on the right path there to getting better. Source
The concern about him though is his difficulty to get teammates involved. Hopefully he'll learn over time. Jay Williams will be a better Mike James at the very least. The question now is that if Jay Williams joins the Raptors, will the Raptors still pursue to trade down to try to get Marcus Williams? Well maybe another point guard won't hurt, especially since drafting another big man with their number one pick will just cause a log jam up front.
No matter what team Jay Williams will eventually join, it's nice to know that the guy is being given a second chance at basketball. I personally wish him well!
One thought about the Jay Williams accident: If Jay Williams never got his accident, Ben Gordon and Luol Deng might never had becomes Bulls. Hmm…