Richard Jefferson healthy, but no Love
NBA Obsessed takes you into the hit and run game of NBA Basketball.
What do you mean 'No Love'?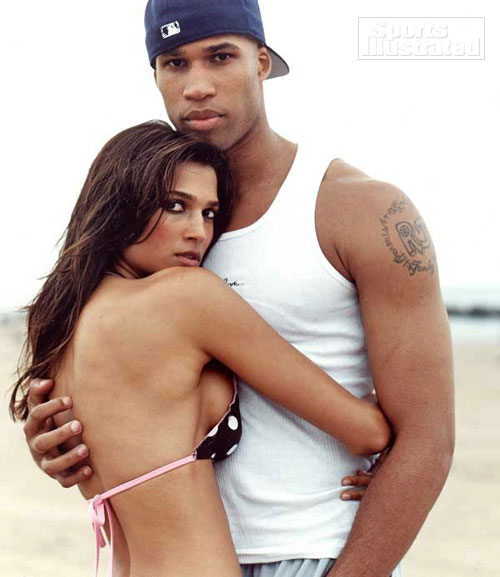 Jefferson, that is Richard, not Thomas, and that is hoops, not Congress.
And that is 4 commas in one short sentence.
Which fits, because Jefferson is only 6′ 7″ and 225 pounds. Not exactly Shaq sized, but in today's NBA and the emphasis on speed and gliding to the hoop, Richard Jefferson is doing just fine.
The whole key is his health. Now that Jefferson has it and Vince Carter on one side and Jason Kidd in the middle, there is no stopping him. The problems lie in the fact that you can stop the Nets. They are 3 - 7 in their last three games and 10 - 14 on the season, all while Richard is second in the conference in scoring and heading for and All Star season.
ABC analyst Mark Jackson, who does Nets games for the YES Network, says Jefferson had been the most consistent Net in New Jersey's first 21 games.

"You look at the impact he is having on ball games — win, lose or draw — he hasn't disappointed," says Jackson. "He is playing his best basketball and it is really fun to watch night in and night out."

Though the 6-7, 225-pound Jefferson is having an All-Star caliber start, that wasn't his goal.

"I didn't want to average 20 points," Jefferson says. "I didn't want to make the All-Star Game. I didn't want to do this or do that. I came in saying, 'Hey, I just want to be healthy.' And I'm glad I'm healthy." source
Back at Arizona
You could tell Richard would be great when he met up with my Michigan State Spartans in his last year in college at Arizona back in 2001. My Spartans were led by Jason "Jrich" Richardson and the two met head to head. It was no contest. At that time Richard Jefferson was bigger, stronger, and just plain better. It was a shock to Spartan fans.
Get Rid of Richard Jefferson
Richard is healthy and teamed with Carter and Kidd and playing at a very high level. But the Nets are not winning and that is a problem. The talk is about breaking up the big 3 players.
Breaking this trio apart has been suggested before. It just seems appropriate now because if the floundering Nets are going to address the next phase of this franchise - contending for a title, filling that new arena in Brooklyn, etc… - they should be thinking trade right now, well in advance of the February deadline.

And they should trade Jefferson, who at 24.9 points per game, still has lots of value. The big hurdle is Jefferson, who will earn $12.2 million this year, still has another three years and $52 million left on his contract. But he should be moved to rebuild. source
Leave it to Rod Thorn and the Nets to always be moving the pieces. Gotta feeling that there are plenty of teams out there drooling at the prospect of picking up a player of Richard Jefferson's caliber.
Will he stay or will he go? Nobody knows.
Break up the Big 3? Hey, thought the Big 3 was officially up in Boston now?
Rod ought to wake up and realize the Nets have historically stunk on Defense and have lacked a true presence in the middle for years.
Richard Jefferson is not the problem and besides, Richard is healthy!
NBA Basketball Fan Question Would your team trade for Jefferson?
Visit my companion blog on the NFL at Squibkick.com
As always, any NBA Basketball related comments are welcome.
More blogs about basketball.


Tags: all-star, basketball, Jason Kidd, jason-richardson, nba, new-jersey, richard-jefferson, vince-carter
Related Stories
POSTED IN: Jason Kidd, New Jersey Nets